Eco-Warriors!
Himalayan Brothers Adventure have taken the initiative to sensitise locals and tourists alike about respecting the environment. As part of our campaign to keeping our mountains clean and plastic-free, we have started by installing dustbins around Naggar.
Our local youth are spearheading this movement, and in addition to installing dustbins, have gotten involved in cleaning public places and beautifying them by planting flowers. This is just the beginning of our Clean and Green Campaign and we're very excited about doing our bit for preserving our heritage and home!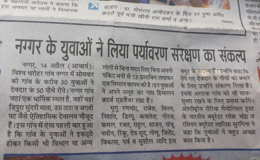 Local newspapers like Punjab Kesari and Vidya Himachal and online magazines covered the initiative.
HP Hillpost (online):
Youngsters drive cleanliness campaign at Kullu heritage Village
Read more about it on www.hillpost.in